---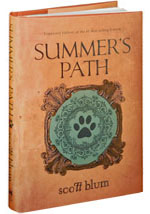 I'm pleased to introduce you to Scott Blum, the co-founder of DailyOm. Be sure to check out their articles at dailyom.com.
Here is Scott, to tell you about his exciting book launch today:
My #1 best-selling e-book is now available as an expanded-edition hardcover —  I added two more chapters.
This  printed edition of Summer's Path presents the remarkable story of Don Newport, an engineer who comes face-to-face with his personal destiny under extraordinary circumstances. After losing his job and his health insurance, Don learns that he has a terminal disease, with only a few months left to live. On his deathbed, he meets Robert, a brazen angel of death who promises to help him with a graceful exit. As Don prepares to say his last goodbyes to his loving wife, Robert attempts to change Don's perspective about his mortality and proposes an exceptionally unique option.
By the way, Summer's Path is the prequel to the best-selling book Waiting for Autumn.
Click here for Summer's Path by Scott Blum
SPECIAL OFFER: Order Summer's Path and enter to win a summer retreat for two at the exquisite Canyon Ranch Resort.
Over 120 bonus gifts for everyone, with book purchase.
Thanks!
Scott